Built in 1939 for the Wilson Tobs of the original Coastal Plain 'D' League, Fleming Stadium has always served as a steping stone for some of our country's greatest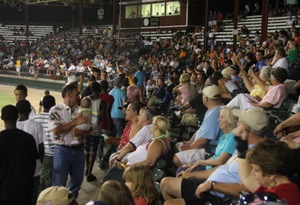 ballplayers, entertainers and politicans.
From Ted Williams and Mickey Mantle to Elvis Presley, Kevin Costner and New York City Mayor Fiorello H. La Guardia, Fleming Stadium's 73 year history is lined with the heroes of our national pastime and the cultural leaders of our society.

Used primarily today as the home of the modern-era Wilson Tobs of the Coastal Plain League, the Post 13 American Legion program and the North Carolina Baseball Museum, Fleming Stadium is still vibrantly hosting our national pastime's past, current and future stars. Hosting over 100 baseball games annually and operating from February to November, Fleming Stadium's importance in the baseball community has actually grown with age. Welcoming the CPL All-Star game in 2000, 2005 and in 2012, Fleming also hosts the Conference Carolinas Baseball tournament and the NCISA's spring Single A Baseball Championships.
Experienceing a number of stadium renovations in the past decade, Fleming Stadium is still known in Wilson and eastern North Carolina as 'the' place to 'be' on a sultry, summer evening.
Perhaps it is the moniker that has allowed Fleming Stadium to persavere through seven decades of social revolutions, world wars and more recently, the 'digital age".
Originally utilized by the Coastal Plain League, Fleming Stadium has also played host to the Bi-State League and The Carolina League, It was last used professionally by a Carolina League co-op franchise in 1973.
During it's Carolina League days, Fleming Stadium was most utilized by the Minnesota Twins/Washington Senators. The Twins/Senators played as the Tobs for 10 years, starting a split season in 1957, and then from 1960 until1968. Other affiliations while with the Carolina League include the Baltimore Orioles (1 Year), the Pittsburgh Pirates (1 Year) and the Philadelphia Phillies (1 Year). All of these affiliations were under the name, the "Wilson Tobs."
| | | | | | | | | | | |
| --- | --- | --- | --- | --- | --- | --- | --- | --- | --- | --- |
| Year | Team | League | Class | Affiliate | W | L | Place | Manager | Attendence | Notes |
| 1908 | Tobacconists | Eastern Carolina | D | None | 36 | 18 | 1 | Earl Holt | NA | Playoffs cancelled due to weather |
| 1909 | Tobacconists | Eastern Carolina | D | None | 50 | 39 | 1 | Earl Holt | NA | No playoffs - Wilson wins pennant |
| 1910 | Tobacconists | Eastern Carolina | D | None | 44 | 39 | 2 | Charles McGheehan | NA | Bunn Hearn's 16 wins led league |
| 1920 | Bugs | Virginia | B | None | 44 | 71 | 8 | John Castle | NA | Rasty Walters bats .435, wins title |
| 1921 | Bugs | Virginia | B | None | 74 | 52 | T1 | Tom Clarke | NA | Playoff ban - salary cap violations |
| 1922 | Bugs | Virginia | B | None | 68 | 52 | 1 | Bunn Hearn | NA | Bugs win league pennant |
| 1923 | Tobbaconists | Virginia | B | None | 70 | 52 | 1 | Rube Oldring | NA | Club wins second pennant in a row |
| 1924 | Bugs | Virginia | B | None | 66 | 70 | 5 | Marshall/Nunamaker | NA | Bugs finish 10.5 games back |
| 1925 | Bugs | Virginia | B | None | 68 | 64 | 4 | H.E. Winston | NA | Bugs finsih 10 games back |
| 1926 | Bugs | Virginia | B | None | 85 | 69 | 2 | Bunn Hearn | NA | Bugs just miss pennant by .5 game |
| 1927 | Bugs | Virginia | B | None | 65 | 67 | 4 | Bunn Hearn | NA | Frank Wiel posts 20 win season |
| 1939 | Tobs | Coastal Plain | D | None | 64 | 61 | 6 | Frank Rodgers | NA | Tobs open Fleming Stadium in June |
| 1940 | Tobs | Coastal Plain | D | None | 77 | 49 | 1 | Frank Rodgers | NA | Tobs take pennant, lose in playoffs |
| 1941 | Tobs | Coastal Plain | D | None | 87 | 30 | 1 | Bill Herring | NA | Tobs win the pennant and playoffs |
| 1942 | Tobs | Bi-State | D | None | 69 | 53 | 1 | Bill Herring | NA | Tobs win another pennant |
| 1946 | Tobs | Coastal Plain | D | None | 67 | 57 | 3 | Irv Dickins | 108,229 | Red Benton no-hits Kinston on 7/7 |
| 1947 | Tobs | Coastal Plain | D | None | 79 | 61 | 1 | Max Wilkins | 138,549 | Record crowds see pennant winner |
| 1948 | Tobs | Coastal Plain | D | None | 61 | 79 | 6 | Wilson/Dickens/Latshaw | 95,238 | Lead league in attendence again |
| 1949 | Tobs | Coastal Plain | D | None | 57 | 79 | 8 | Ross Morrow | 71,413 | Last place finish - first time since1920 |
| 1950 | Tobs | Coastal Plain | D | None | 68 | 70 | 5 | Bill Herring | 84,159 | Irv Dickens named all-star shortshop |
| 1951 | Tobs | Coastal Plain | D | None | 69 | 57 | 4 | J. Antilock/A. Rehm | 54,753 | Jim McComas hits 20 homers |
| 1952 | Tobs | Coastal Plain | D | None | 71 | 51 | 2 | J. McComas/A. Rehm | 57,565 | Final season of the old CPL |
| 1956 | Tobs | Carolina | B | Phillies | 72 | 79 | 6 | Charlie Gassaway | 80,409 | Earl Hunsinger posts 232 strikeouts |
| 1957 | Tobs | Carolina | B | Senators | 51 | 89 | 6 | Pete Suder | 51,500 | Kinston moves to Wilson on May 1 |
| 1958 | Tobs | Carolina | B | Orioles | 60 | 78 | 8 | B. Hooper/B. Lutz | 56,163 | Fred Valentine wins batting title |
| 1959 | Tobs | Carolina | B | Pirates | 71 | 58 | 2 | H. Peterson/D. Osborn | 54,922 | Wilson wins playoffs |
| 1960 | Tobs | Carolina | B | Senators | 73 | 65 | 2 | Jack McKeon | 45,447 | "Trader" Jack takes over Tobs |
| 1961 | Tobs | Carolina | B | Twins | 83 | 56 | 1 | Jack McKeon | 37,893 | Weatherspoon blasts 31 homers |
| 1962 | Tobs | Carolina | B | Twins | 65 | 75 | 5 | Harry Warner | 40,669 | Pete Cimino tosses no-hitter on 7/1 |
| 1963 | Tobs | Carolina | A | Twins | 77 | 62 | E2 | Ralph Rowe | 44,789 | Tobs win playoff championship |
| 1964 | Tobs | Carolina | A | Twins | 57 | 82 | E5 | Ralph Rowe | 24,599 | Tarrolly, Holle on all-star team |
| 1965 | Tobs | Carolina | A | Twins | 68 | 75 | E4 | Vern Morgan | 26,850 | Wayne McAlphin wins 16 games |
| 1966 | Tobs | Carolina | A | Twins | 72 | 65 | E3 | Vern Morgan | 23,501 | Rod Carew plays for Tobs |
| 1967 | Tobs | Carolina | A | Twins | 61 | 72 | E5 | Vern Morgan | 20,108 | Tobs struggle on field and at gate |
| 1968 | Tobs | Carolina | A | Twins | 71 | 68 | E4 | Vern Morgan | 22,811 | Team moves to Red Springs, NC |
| 1973 | Pennants | Carolina | A | Co-op | 52 | 88 | 6 | R. Hathaway/D. Lock | 45,132 | Steve Hardin throws perfect game |
| 1997 | Tobs | Coastal Plain | NCAA | | 20 | 30 | 6 | Troy Heustess | 10,689 | The Tobs and CPL return to Wilson |
| 1998 | Tobs | Coastal Plain | NCAA | | 26 | 23 | 3 | Mike Rikkard | 25,247 | Curt Fiore wins batting title (.362) |
| 1999 | Tobs | Coastal Plain | NCAA | | 25 | 24 | 4 | Tom Hager | 37,485 | Taft Cable named top pitcher |
| 2000 | Tobs | Coastal Plain | NCAA | | 30 | 20 | N1 | Jeff Bock | 32,252 | Mark English named league MVP |
| 2001 | Tobs | Coastal Plain | NCAA | | 31 | 19 | N1 | Brandon Hall | 36,656 | Tobs lose in championship series |
| 2002 | Tobs | Coastal Plain | NCAA | | 16 | 34 | S4 | J.P. Burwell | 34,886 | Mike Reese named top player |
| 2003 | Tobs | Coastal Plain | NCAA | | 19 | 28 | S4 | Brad Stromdahl | 40,749 | Wilson tops in league attendance |
| 2004 | Tobs | Coastal Plain | NCAA | | 28 | 22 | S1 | Todd Wilkinson | 33,262 | Tobs sweep divisional playoffs |
| 2005 | Tobs | Coastal Plain | NCAA | | 27 | 29 | S4 | Chris Cooke/Jeff Steele | 41,429 | Tobs reach playoffs with late-season surge |
| 2006 | Tobs | Coastal Plain | NCAA | | 29 | 24 | S3 | Jeff Steele | 37,933 | Offensive records fall for Tobs |
| 2007 | Tobs | Coastal Plain | NCAA | | 27 | 29 | N3 | Jeff Steele | 44,141 | Team sets attendance/10 offensive records |
| 2008 | Tobs | Coastal Plain | NCAA | | 31 | 24 | S2 | Jeff Steele | 46,551 | Tobs finish first in 2nd half |
| 2009 | Tobs | Coastal Plain | NCAA | | 35 | 21 | S1 | Jeff Steele | 42,171 | Tobs finish in first place in south |
| 2010 | Tobs | Coastal Plain | NCAA | | 37 | 19 | N1 | Jeff Steele | 50,934 | Tobs set CPL era record for wins |
| 2011 | Tobs | Coastal Plain | NCAA | | 25 | 31 | N4 | Bruce Johnson | | Ryan Matthews leads league in homers with 15 |
| 2012 | Tobs | Coastal Plain | NCAA | | | | | Bryan Hill | 36,076 | |
| 2013 | Tobs | Coastal Plain | NCAA | | | | | | | |
| | | | | | | | | | | |
| | |
| --- | --- |
| 1908 | Playoffs Cancelled due to weather (Wilmington led Wilson 2 games-0 at the time of cancellation) |
| 1922 | Class B Southern Championship Series: Charleston, SC (SAL) 4 games, Wilson 2 (1 tie) |
| 1923 | Class B Southern Championship Series: Charlotte (SAL) 4 games, Wilson 2 |
| 1940 | Playoffs: Kinston 4 games, Wilson 3 |
| 1941 | Playoffs: Wilson 4 games, Rocky Mount 1; Coastal Plain League Finals: Wilson 4 games, Greenville 2 |
| 1942 | Playoffs: Rocky Mount 4 games, Wilson 3 |
| 1946 | Playoffs: Kinston 4 games, Wilson 3 |
| 1947 | Playoffs: Wilson 4 games, New Bern 1; Coastal Plain League Finals: Kinston 4 games, Wilson 2 |
| 1951 | Playoffs: Wilson 4 games, Kinston 2; Coastal Plain League Finals: New Bern 4 games, Wilson 3 |
| 1952 | Playoffs: Edenton 4 games, Wilson 0 |
| 1959 | Playoffs: Wilson 3 games, Durham 0; Carolina League Finals: Wilson 4 games, Raleigh 0 |
| 1963 | Playoffs: Wilson 3 games, Kinston 0; Carolina League Finals: Wilson 2 games, Greensboro 1 |
| 1968 | East Playoffs: Wilson 1 game, Portsmouth 0; Raleigh-Durham 2 games, Wilson 1 |
| 1997 | Coastal Plain League Finals: Raleigh 2 games, Wilson 0 |
| 2000 | Divisional Playoff: Petersburg 1 game, Wilson 0 |
| 2001 | Coastal Plain League Finals: Durham 2 games, Wilson 0 |
| 2004 | Petitt Cup Tournament (Double Elimination) Wilson 2, Asheboro 1; Outer Banks 6, Wilson 1; Wilson 6, Florence 5; Outer Banks 7, Wilson 1 (Wilson finished third place) |
| 2005 | Special Division Playoff Game: Wilson 3, Florence 1; Petitt Cup Tournament (First-Round Single Elimination) Fayettville 3, Wilson 0 |
| 2006 | Pettit Cup Tournament (Double Elimination) Wilson 7, Martinsville 2; Fayetteville 2, Wilson 1; Thomasville 10, Wilson 1 (Wilson finished fourth place) |
| 2007 | Pettit Cup Tournament (Single Elmination First Game) Fayetteville 6, Wilson 5 |
| 2008 | Pettit Cup Tournament (Single Elmination First Game) Peninsula 4, Wilson 2 |
| 2009 | Pettit Cup Tournament (Single Elmination First Game) Fayetteville 3, Wilson 2 |
| 2010 | Pettit Cup Tournament (Best 2 out of 3) Wilson 0 games, Peninsula 2 games |